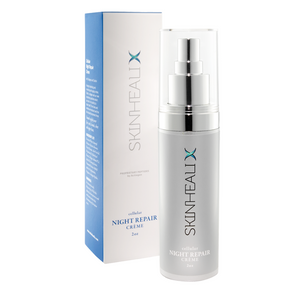 Cellular Night Repair Creme
= Activor Collagen and Elastin.
Cellular Night Repair Creme can do for your skin what a solid night sleep does for your body. Revitalize it. Awaken it. Repair it.
So how does it do it?
Two patented biopeptides target senescent fibroblasts living in the dermal layer of your skin, reversing the down-regulation that typifies the aging process. One peptide turn-keys the production of collagen. The other directs the synthesis of elastin.
Ideally organized in a perpendicular array, collagen and elastin constitute the bulk of the dermal layer's connective tissue matrix. Cellular Night Repair Creme measurably improves it, and (independent) clinical studies confirm it. Your skin will thicken. Fine lines and wrinkles will soften. Skin elasticity will actually increase.
At its most basic level, Cellular Night Repair Creme is geared toward maximizing connective tissue renewal, which is the foundation of this year's collection. And to that end, this cream is one of only two formulations to sport two proprietary bioactive peptides. With so much potential, we needed an unassuming transport vehicle to get the science into the dermis. Hydrolyzed fragments of elastin and collagen proved to be the ideal suitors. They're small enough to get into the skin, but do nothing to enhance the final result.
As for the balance of the formulation, it's what you've come to expect from SkinHealix. Aloe vera gel, jojoba oil and chamomile extract sooth the skin, while extract of ginseng scavenges the skin for free radicals – all in an effort to protect the work ongoing below.
And when the sun rises, you can look to Optimum Hydrating Day Creme to solidify the work that was ongoing over night, cross-linking the collagen and elastin fibers into a perpendicular array that adds stability, durability and a youthful texture to your newfound skin.
Which is why we call it smart. For Smart Skin.
Smooth nightly over face, neck, hands, chest and upper bust. 
Ingredient List:
De-ionized Water, Isopropyl Myristate, Glycerin, Beeswax, Glyceryl Stearate, Aloe Vera Gel, Polysorbate-20, Hydrolyzed Elastin, Collagen, Sodium PCA, Jojoba Oil, Ginseng Extract, Chamomile Extract, Methylparaben, Propylparaben, Fragrance, Actiogen Peptides.
Warnings:
For external use only.  Keep out of eyes, While this product has been proven to work on the most sensitive skin, discontinue use if irritation occurs.